Factory Blinds & Plantation Shutters is your one-stop shop for a wide array of high-quality window furnishings including plantation shutters, aluminium Venetians, and blinds of different types. We're a renowned seller of stylish, modern, and durable outdoor blinds in Melbourne, Central Coast, and Newcastle regions.
As a renowned supplier of a top-quality range of durable and affordable outdoor shades, plantation shutters, and blinds, we take care of every need at all stages ranging from measurement to deployment. Our outdoor blinds can enhance the value and add versatility to outdoor living spaces in your home in Melbourne.
Benefits of Outdoor Blinds
With privacy & sun protection under one comfort space, get the exclusively curated outdoor blinds Sydney needs! Our blinds are specifically made to withstand the harsh Australian climate while adding an elegant & modern look to your outdoor space. Whether you want some protection from the blazing heat of the sun or privacy from eavesdropping eyes, our outdoor blinds Sydney present the perfect solution! Enhancing Melbourne and Sydney homes, outdoor blinds allow for the enjoyment of outdoor living spaces. They offer many advantages, such as
Increased Energy Efficiency
Investing in outdoor blinds in Melbourne can help you reduce environmental impact and utility costs. These window treatments are designed to be energy-efficient, so they can make a real difference to the cost of keeping your home comfortable.
Protection from Weather Elements
Outdoor blinds have this invaluable advantage. Not only do they let natural light in, but they are resilient against harsh sunlight, heavy downpours and strong gusts of wind. Their durable design also stays vibrant in the sunshine. It might be a good option to invest in outdoor blinds Sydney's weather won't be able to tear down so easily.
Enhanced Privacy
Outdoor blinds can provide you with extra privacy, proving useful in neighbourhoods with a high level of pedestrian activity or if your neighbours' homes are rather close. This makes sure nosy passersby can't peek into your abode and garden.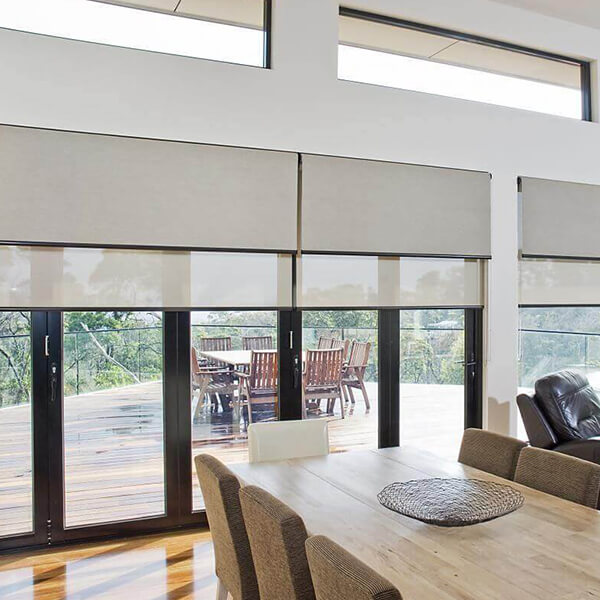 Different Types of Outdoor Blinds
At our Melbourne, Newcastle, and Central Coast stores, we offer a wide selection of outdoor blinds, from many different styles including
Cafe Blinds
Cafe blinds provide a great way to ensure your cafe remains comfortable for customers. They make sure that the cafe is kept cool and shaded by the burning sun.
Straight Drop Blinds
Straight Drop Blinds are highly effective to keep the sun rays out of your home. You can manage the amount of light coming into your house and regulate the temperature.
Zip Track Blinds
This type of outdoor blind is built to last; they can resist difficult weather and employ a zipping system.
Patio Blinds
Patio Blinds are ideal for enclosing patios and creating a comfortable place to enjoy outdoor living spaces.
Motorised Blinds
Motorised blinds are the perfect solution for people who want convenience and ease of use for outdoor spaces.
Why Choose Us for Your Outdoor Blinds Needs?
We are the premier outdoor blinds manufacturer and designer in Australia, renowned for using only superior materials in custom-made products. Our in-house team of knowledgeable experts provide the highest level of professionalism. At Factory Blinds & Plantation Shutters, our fully trained and certified installers offer all services for complete assurance and peace of mind.
When you're looking for outdoor living solutions, Australian Canvas and Synthetic Products Association (ACASPA)-recognized fabricators are here to help. No matter how big the job, come and visit us in our showroom in Melbourne, Sydney, or Newcastle for a free measure, quote and design – get in touch today!
Testimonials
McNathan
They have a vast range of outdoor living solutions. They focus on customer satisfaction with quality products and excellent service.
McNathan
Newcastle
Catherine
Factory Blinds & Plantation Shutters is simply the best when it comes to outdoor living solutions. Visit once and I am sure you will get your favourite products.
Catherine
Melbourne
John
Factory Blinds & Plantation Shutters has an exclusive collection of outdoor blinds and shutters. I found a blind of my choice among quality products. Thanks!
John
Central Coast
Looking for Quality Outdoor Blinds or Plantation Shutters in Australia?
For over a decade, Factory Blinds & Plantation Shutters has remained a one-stop store for various types of blinds, plantation shutters, and security doors. Our extensive selection of quality outdoor blinds offers the perfect solution for homes and businesses. We are a trusted supplier of quality outdoor blinds, each of which is rigorously tested. Let us help you craft your outdoor living space into a stylish, comfortable environment in Melbourne, Newcastle, and Central Coast regions.
Frequently Asked Questions
Yes, Factory Blinds & Plantation Shutters offer a free measurement and quotation for either your home or business. Our technicians will come to your home or office and give you precise dimensions to ensure that the blinds or plantation shutters you require fit perfectly.
We offer a variety of outdoor blinds, from Coffey blinds to patio and zip track to motorised - no matter your requirements we can provide you with the perfect solution.
Our experts are ready to help you use the blinds initially. Our outdoor blinds, made of durable material, are designed for easy use.
Showing the single result